Before I could sufficiently
recover from being
Rockybrued
, I was
Jeffooied
(to borrow a phrase from
Sharon Bakar
) left, right and centre during the past few days causing an unprecedented surge in the graphs never seen before in my webstat. I have had a busy week but late one night, I sat before my pc mesmerised by the increasing number of people online. I can asssure you, the experience was not unlike watching the washing machine in action. It was... , er, mesmerising, as I stared at the number of guests online in MY blog, going from 24 to 36 to 44 and 55! I even checked to see whether I was in the right blog and not one belonging to Mak Andeh or BTB or someone equally famous. But no, it is Choc-a-Blog and my tired eyes were not playing tricks.
I then had the presence of mind to check webstat. On 14th November, there were about 1,300 visitors lurking in my archives, all being redirected from Jeff Ooi.com. To what do I owe this honour? I clicked on all his links and finally found one that says,
Lat's story
– and that was where the visitors were coming from. The next morning, before I could even wash my face, there were already 60 visitors and the figure went well over 2,000 by the end of the day. Phew! talk about the 15 minute of fame...I had two whole days and I just couldn't cope with it. I am now quite relieved to see the normal five or at the most seven, (half of which must be my siblings) pottering around in my archives.
So, what have I been up to these past few days? Quite a lot I must say. I sacrificed my Eastenders omnibus edition and X-Factor to join thousands of people at Westminster for Remembrance Sunday. It was a very emotional affair, especially watching old war veterans in their wheelchairs, with their walking sticks, marching past the cenotaph with its millions of red poppy flowers making a stark contrast to the dull and grey autumn morning. Then there were the war widows, walking proudly in memory of their husbands who never returned. I saw one old war veteran, with medals on his beret, flashing an old sepia photograph from his wartime days to anyone who cared to look, and telling wartime stories to anyone who cared to listen.
The last time I attended Remembrance Sunday was in 1995 at the Royal Albert Hall when it was the 50th anniversary of the Second World War. I attended the ceremony then for the same reason I attended the ceremony this year. Each year, a Malay ex British army veteran joins in the march. In 1995, Pak Mat Abu, now 66, was given the honour to carry the Malaysian flag as the British government honoured the Commonwealth countries for their contribution during the Second World War.
Lest we forget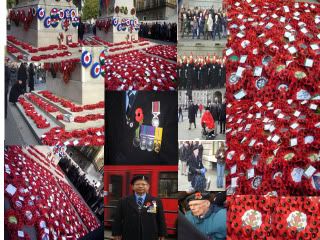 Last Sunday, I caught up with Pak Mat Abu again after the parade and spotted him wearing his newly acquired medal – the Pingat Jasa Malaysia, given to those, especially in the British army and the police force, who served during the emergency.
Pak Mat was 15 when he signed up with the British Royal Artillery and served in several units in Singapore before they closed down the base. He didn't see any action but was involved in digging trenches during the emergency.
Although he came to London in 1971 with the intention of joining up again, he resigned from the British army and went on to work with London Transport, first as a guard and later as a tube driver on the Bakerloo Line. He later drove the number 52 bus. I have known Pak Mat for a long time and he has been a source of information in my search for stories about the old Malay sailors.(
here
,
here
and
here
)
A few days ago, I attended another ceremony at the Guildhall in east London– a ceremony steeped in tradition dating from 1237. I was there again to witness another friend being given the Freedom of the City of London. What an honour and it came just a day before his birthday too! The first Malaysian to be given the Honorary Freedom of the City was our first Prime Minister, Almarhum Tunku Abdul Rahman Putra AlHaj in 1968. The second who was nominated and made Freeman of the city was the present sultan of Selangor. And now the third is someone who had done a lot to contribute to the fashion industry, making women feel beautiful in his creation, inspiring not only films, books but also songs, not to mention others who want to be in his choos, er shoes, following his footsteps. I have been to almost all ceremonies where he was given awards and recognitions, like the OBE, the honorary doctorate at a university and it never failed to make my eyes water. Such a beautiful, kind and humble person and I feel truly honoured to be his friend and to be able to share most of his important moments with him and his family.
Just a little something abt the Freedom of the City. In the olden days, recipients of this title were allowed to drive their flock of sheep across the London Bridge and they could go on a drinking spree and behave in a disorderly manner without fear of being arrested.
I have just come back from a meeting with blogger
arena
and what a wonderful meeting it was. Like the war veterans, I suddenly feel old.
So, yes, it has been an exhausting week, but I think I still have enough energy for Dirty Dancing this weekend!