The precious few pieces
of ketupat that I had at a friend's house is now no more than a fond memory that lingers torturously during my waking hours. I have conquered the fear of making jam tarts, the success of which is evident in the empty airtight container that I bought just for that purpose. Now, with renewed confidence, I feel brave enough to try making pulut for ketupat and for that I may need to go for meditation for a whole forty-four days and emerge when the moon is full and the air is serene. Such is the effect of that ketupat that my life will never be the same again.

I had a raya with a difference this year and I say so with a certain pride. Afterall, I made jam tarts and biskut almond London when throughout my 26 years of marriage I had never ever attempted such feat. I surfed the internet and found several recipes for biskut almond london and copied two – one on each side of an envelope which had earlier delivered a hari raya card from Malaysia. What a mistake! With such a rush of adrenalin, I soon got confused as to which recipe I was following – the one on the front of the envelope or the one on the back? But as it was Ramadan, my patience was in tact and as if on cue, I heard my Mak's reassuring voice in the background: Kita yang buat dia – apa kita buat jadi lah!" Such wise words in such desperate moments.

It was also a raya with a difference for on the last night of Ramadan, we all gathered in our front room and did the takbir together. Tell me, how would a mother feel, hearing for the first time the voice of your just adolescent son, doing the takbir? His voice, at times breaking, at times nervous, alternated with that of his father, whose voice was still coarse as a result of a month long cold and cough. This mother felt very proud indeed and for the solat raya, which we had at Mawar, he did a repeat performance and sounded more confident.

It was raya with a difference because there was about fifty percent less tension in the morning as we all rushed for the bathroom. I had ironed everyone's clothes, found the buttons and the pins and the keronsang and left my Jubbah till the last minute to hem it in. Which was another big mistake of course, because I couldn't find any thread nor needle. My youngest found one of those things that you iron in and was supposed to stick and stay in place. Big mistake again because the hem came undone as we were about to go harirayaing. So in the front room of a friend's house, daughter number one sat demurely, needle and thread in hand and hemmed in my hem. Ehem, ehem.
We are not much of a house hopper during hari raya so we stayed on at this friend's place until there was only standing room. It was nice to see the younger ones – my children's generation – getting together in their hari raya fineries. I had bought the girls new kebayas and sarungs but year afteryear, theyinsisted on wearing my old kebayas that had seen better days.Rehana wore my kerawanged kebaya top that I wore during my graduation at ITM in 1978, with batik panjang lipat which once belonged to her Cik Su. Nona wore Kak's green kota baru which was handed down to me, then to rehana and then to her. With that she wore a matching kain ketat that I had made when my waist was as slim as my wrist. Those were the days. Yes, the children – now all grown ups and some still in university and some working – had all grown up together in this land they now called home. Watching them in that living room, we the parents suddenly feel so old.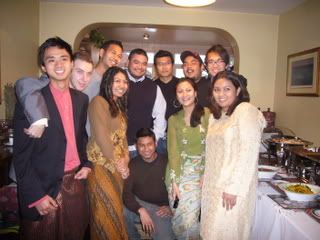 It is raya with a difference too as I discovered
http://www.reciva.com/
. And my days and nights are suddenly filled with lagu permintaan raya from Klasik National, kenangan menggamit memori, says the jingle. Thank you RTM 1 for making me feel so at home away from home. I heard Datuk DJ Dave with his Maafkanlaaaah, maafkan laah...and Datin Rafeah Buang with her lagu hari raya and was transported back home to my Mak's kitchen where I knew the clans were gathering.
Yes, the clans, minus a few, went back to Mak's place that Pak built. Like I said, Mak insisted on going back first. And I understand her reason. She wanted to be there in her own house, and be the first to welcome her children as there arrive one by one. No one can deny her that pleasure even though her heart broke when she discovered that the roof in the kitchen leaked like a sieve. According to sister number three, pots and pans were more useful to contain the water from the heavy rain, than for cooking. But Mak was in her elements, I was told, sometimes forgetting that she was fasting, offering to make drinks for those who fasted, and even asking everyone to go out for lunch – during the last few days of Ramadan. It doesn't matter Mak, you have done enough in your life – what is a few days when your memory took leave. Allah understands. And Pak understands that you didn't even think about visiting his grave. You didn't forget – it is just that your brain cells are acting a bit funny. Pak understands.
It was raya with a difference because I didn't cry on the first day of raya. I didn't even cry when i spoke to mak on the phone even though our conversation was like one badly written script. She answered what I didnt ask and asked what I couldn't answer. But I did cry when I received some raya photos from home.