If Lat is a blogger
, I believe he'd be categorizedd as a Life Blogger but he''d be documenting what we document in our blogs with those clever strokes of the pen bringing to life characters and events in every little detail that never escape his keen observation. And make it fun!! Oh, how I wish he''d do that!
Meeting Dato Lat again, after all these years was indeed a wonderful experience. There''s a lot of catching up to do. When he got married, the newly wed visited us in London. And that must have been in 1980. God, how time flies. Now, like us , they have four children. But he is instantly recognisable although he has lopped off those famous mop of hair, which brings the most maternal instincts out in you. You''d want to rush over and pull out your brush and brush those curls with a neat middle parting. (He has since admitted that its quite impossible to run a comb through it!)
The first time I saw Lat was of course when I was doing my training at that big building in Jalan Riong. Part of the excitement of working there was to meet names that you read as bylines in the newspaper. Names like Adibah Amin and Lat were top of the list. And another one, a feature writer Wan A something. Loved reading his film reviews. (But this is another storylah , kan?). Being trainee reporters, we daren''t approach him but would loiter outside his room and peep in to see what he was up to. And all we could see was this mop of hair over his papers.
And I always wondered why, on Saturdays, at the sight of two coach loads of schoolchildren, driving into the compound, Lat would make a beeline out of his room to somewhere no one could find him. I have always assumed Lat to be very shy. For indeed he was. But he has other reasons…!
Anyway, so, Lat and family are here in London after a trip to Paris - a once in a while family holiday together. I can almost see them, in comic strips of course, walking under the Eiffel Tower, camera hanging around their necks, walking in a line across the bridge to where the memorial in rememberance of Diana is, and lugging themselves up the six flight of stairs to the apartment they were renting. Lat, Mrs Lat and junior Lats – all in a row.
We met the whole Lat clan over dinner, with fellow blogger Atok and family.
Like all of you, I do find LatÂ's cartoon very funny, very nostalgic, but seriously, I had forgotten how funny Lat himself is. We spoke about old times in the newsroom and had visions of certain people there, like Pak Samad, who had the hired the then budding cartoonist after recognising his talents, the late Tan Sr Lee Siew Yee, our MD and the lovable Kak Adib. Its impossible not to instantly recognise the the hand on the hip, the one leg crossing the other, the expressions on the face that Lat expertly transfered on to paper. You just know who he was talking about!
We remembered dialogues from the Kampong Boy, from Scenes of Malaysian Life, Mat Som and many more.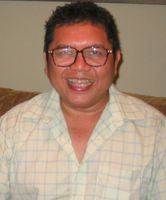 Before coming to London, apart from the images that you get from TV, you imagine London to be like the ones he caricatured during his stint with old Harry Miller in Fleet Street. Visiting Malaysia Hall for the first time, I really expected it to be as depicted in his cartoon…and it was.
We talked about many things from his days as a crime reporter, his interest in books, his talent in music, his admiration of the late P Ramlee and then it was nearly 12 midnight.
Lat books are usually a must for anyone leaving the country for long periods of time. They are not only good for souveniers but also for those times when you get home sick. You laugh again and again and thought certain depictions of events couldn''t have happened, but they did - and they would appear in Lat''s cartoon - an unfailing source of delight, even to those people he cleverly caricatured. Lat's documentation of events in our everyday life is like no other we have seen in our life time.
I particularly love Mat Som. Lat has cleverly done it from a movie making perspective. Reading it is like watching it on screen. It is almost like Pak Samad Said''s novel Salina, written in a similar way. But that is by the by.
There's a lot to be said of Lat and many have been said by those commenting in this blog. I believe, like others, he is tough act to follow.
Kak Adib wrote in a forward for one of his books, a postcard was simply sent to Lat, Malaysia. And he received it. He is that big.
Has it really been 41 years of Lat? How time flies when we are having fun. Forty one years of entertaining us with his unique sense of humour, yet, the title Dato notwithstanding, the fame and the adulation, he is still very much the lovable Kampong Boy!