It has been a while
and I really need to come up for some fresh air. And how refreshing it is to be surfing and reading blogs instead of squinting my eyes at the
syair
and willing it to turn into a 10,000 word dissertation. So, I am back – briefly – because I'd like to welcome a new blogger - one who needs no introduction in the Malaysian media world. She is no stranger here as a reader but now she is actively blogging.
So, please join me in welcoming Lydia Teh, an accomplished writer and author. Last year, at this time I was in Malaysia and was looking at books at MPH to bring back when I saw her book – Life's Like That and immediately bought it. A few years ago I brought back Malaysian Flavours by Lee Su Kim. These are the kind of books I love reading. Very often we take for granted our Malaysian way of life and when we are thousands of miles away, we yearn to hear the unique Manglish that is such a reflection of our soceity, our habits and taboos and culture that can only be Malaysian and none other. I used to love reading Adibah Amin's As I was Passing and Lee Su Kim and Lydia Teh do remind me of that style of writing.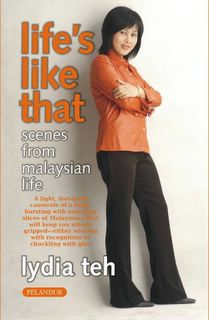 I find that these books are also useful in briefings to expats going to work and live in Malaysia. Lydia in Life's Like That brings us scenes from Malaysian life that we have taken so much for granted and yet instantly recognise ourselves, the minute we read them in print. Lydia has also written a guidebook on how to maximise your chances of winning competitions. This, I must get before trying to get a place in 'Who Wants to be a Millionaire'.
I don't know whether we are related in anyway – you know – coming from the same Teh clan..he he, but we've hit it off so far...emailing and smsing. Yes, I know I owe you some replies to your emails, Lydia. And thanks for the comforting words in the last one.
So, from Kak Teh to
Lydia Teh
– Welcome to Bloggers' World! You'll be a hit!