I had a date, well, more of a janji to meet my shoemaker friend. Approaching his shop, I noticed a lot of people, movie people, busying themselves like what movie people do. With big cameras, and cables all over the place. Didn't know what it was all about and proceeded to knock on door of shoemaker shop.
When the door was opened I saw shoemaker at the end of what must seem like miles and miles of legs. Those long shapely pins belong to, (I was told later) actress Debra Messing, who happened to be filming "The Wedding Date" outside.
Anyway to cut story short – the result of that filming is this movie which I must now make a point to watch.
The beautiful actress (I was later informed by my children) stars in "Wills and Grace", the popular American sitcom. Shoemaker and I were duly, albeit, quietly informed of her illustrious background before we could make intelligent conversation. Actually Debra,…er, Ms Messing didn't know they were filming in front of this 'shop' and was so thrilled that during her break, she decided to knock on the door. Thus started what must look like a comedy. Shoemaker opened the door thinking it was me. He was of course delighted it wasn't....cos right there on his doorstep was this apparition – six foot and something with that long flowing hair and famous flash of a smile (instead of a frumpy makcik blur).
Before she left, I said: Er, my children would really love a photograph of you.(
For your info, I have used this line so many times before on Natalie Umbruglia, Ivana Trump and others I met there. It is so well worn, like my shoes. Must really find another line
.)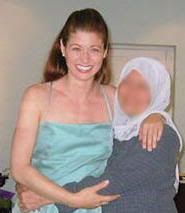 Anyway, my children were so disgusted with this one. They think I was wrapping myself too tightly around her in case she struggled and broke free…..
She escaped from my clutches, with a pair of JC shoes, I think, and was heard to be muttering, "Get me way from Mak Cik Blurrrrr!"
Err..that's the long and short of it.
Have a nice weekend.
(PS I should have also wrapped myself around her delicious co star Dermot Mulroney...ish! tak malu Mak Cik Blur!!)