A Malaysian Garden at The CHELSEA FLOWER SHOW

It was such a hot day and summer is definitely here. The Chelsea Flower Show certainly heralds in the summer social calender for the British. This is the first time after so many years since I last set foot here and I had certainly forgotten how crowded it can be. The British are certainly flower enthusiasts - they came in droves. Tickets are sold out and are so very, very expensive. But no one wants to be left out. There were lots of people in wheelchairs and walking sticks but they still went to admire the wonderful and beautiful flowers and foliage from and around the world. Every inch of available space was filled with visitors enjoying the sun and sight.
I was there with a friend, Diana, to see the Malaysian Garden by Stephen Hendry in collaboration with famous chef Raymond Blanc of Le Manoir aux Quat Saisons, Malaysian Landscape designer, Lim In Chong and MAS. Eating food such as crab claws and salmon in herbs from the Malaysian garden, on the verandah of the Malay house, we felt very much at home. There was the waterfall with beautiful orchids at the back, lots of palm trees (flown in for the ocacssion)...and don't I wish my back garden is like that.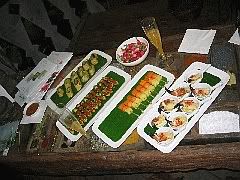 Anyway, I am still experimenting with hello here and cant seem to put all the pictures in one post. But enjoy them!