My way of saying "THANK YOU!!"
During the last few days
, as I worked myself to a frenzy trying to reactivate the old brain cells, I was constantly bugged by a craving I thought I had long flush from my system. It came back gnawing and gnawing at me mercilessly as I struggled with my exam papers.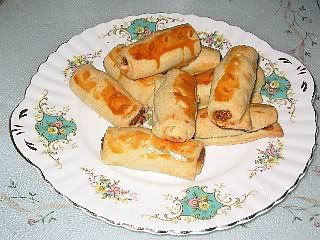 So I decided I had to purge this demon and share it with you…my
Sardine Rolls
. Sardine Rolls, in my neck of the woods, is synonymous to Kak Teh, as pies to Mr Kipling, and succulent turkey to Bernard Mathews. Bootiful!
Its not fair to claim the credit all to myself, so I must mention my Domestic Science teacher, Mrs Wong who had such vision to hand down her own recipe to the likes of me knowing that one day, these sardine rolls will be the talk of the town and grace a blog for the world to see.
The reason I go on and on about something simple a child can do is that my culinary skills or the lack of it has been of some concern among my siblings who still suspect that I subject my family to takeaways. Yeah, I know it was a mistake to wash keropok before frying them, but how was I to know?
I admit that I know very little about cooking but what little I know, I do it to perfection. Thus, a whiff of my sardine rolls, to borrow phrases from our old
hikayats
:
yang capek datang bertongkat,
yang buta datang berpimpin,
yang bulat datang bergolek,
yang jauh datang dengan bas
Still dazed from the deep concentration I subjected my brain to in the exam hall, I came back with the necessary ingredients, with the intention to treat my long suffering family who patiently allowed me to pursue my ambition. This is to thank Taufiq, my fourteen year old, who during the two years that I buried myself in the books, has learnt to make nasi goreng and chicken curry, to my husband who resorted to cookery books and came up with chicken kiev and roasted leg of lamb to surprise me everytime I came back late and tired from the library and to Rehana and her grilled chicken, Nona and her...er, what was that? and Hafiz with his couscous. And thank you also for making do with pizza, nandos and kebab takeaways.
I know, its just sardine rolls but, this has been my life saver at office parties where only nuts and cheese biscuits were served. It is also something the congregation at the surau look forward to during our
morey
throughout Ramadhan, and something children and mums alike beg me for their birthday parties: "Aunty Kak Teh, Aunty Kak Teh, can we have sardine rolls, please??? So, here it is:
For the pastry
(pls do not use bread)
250grm butter (NOT margarine)
500 grm plain flour
a pinch of salt
cold water
Use rubbing in method to mix flour and butter until they become like bread crumbs. Add the salt and pour in the cold water and knead it into a dough. Leave the dough under damp cloth.
For the filling
1 tin of pilchard in tomato sauce
chopped onions
one chilli – chopped as well
a squeeze of lemon
a pinch of salt
Mash the pilchard in tomato and add the chilli and onions and salt and a squeeze of the lemon.
Roll out the dough and cut out into rectangles. Put the filling and roll.Do little cuts on the rolls before brushing egg yolk on top. Bake for about 40 mins. Have fun!
This is for Che Ngah
Bought the set (Royal Stafford) - one cake plate and six side plates - at an antique shop in Exeter for a mere £8.00!!!! I don't normally use all these - usually its just Royal Plastic.