**WARNING: PICTURES BADLY TAKEN AND HAVE LOTS OF GLITTERS OR DANDRUFFLIKE THINGIES ON THEM. PLS DONT ASK ME WHY**
"You doing a piece to camera today?" asked Bob in that Yorkshire drawl of his."Me? Just look at these," I said pointing to the bags under the eyes. I have more bags than Selfridges and John Lewis put together.
The last time I did a piece to camera was at the sea front of Dover where Malik did his 17 hour feat across the Channel to Calais. (I did ask him whether he had heard of the Eurostar). Malik got his datukship and I got lots of jibes from friends and family who saw a tired looking old Mak Cik signing off by the quiet seafront, the echoes of Malaysia Boleh long gone. I looked more battered then Malik after his swim!
"Why no make up or anything?", "Why you look fat?", "Why you wear that dress?", "Why you look tired?" Why? Why ?Why?
Well, we waited days before the elements would allow Malik to swim, by which time the toing and froing to Dover and the stress of waiting had taken its toll. And when it did happen, it was at 1am when he swam into the darkness. And we only left until we no longer saw the white dot that was his luminous white cap bobbing in the cold water.
It was well after 2 am that I did that piece to camera. No, I didn't have a make-up artist at my disposal and I didn't care, cos the news was more about the first Malaysian to swim the Channel. I was only there to tell the folks back home.
Why am I suddenly ranting about Malik's swim when all Bob asked was about a piece to camera at THE Royal Albert Hall?
Well, I supposed the media frenzy here in London during his historic feat was similar to that of Cik Siti's visit and her debut at the RAH and the stress and strain just as much.
Unlike Cik Siti's pre-set date at the prestigous hall, Malik's plan to conquer the Channel was very much at the mercy of the elements. Rough weather and cancellations led to frayed nerves and lack of sleep – LV under the eyes.
(btw – I must add here, just made a call to Cik Siti who is at this very minute at the lounge of Heathrow leaving for Malaysia. And guess what??? This Kuala Lipis lass has bagged another, not one, not two BUT THREE Augerah Bintang Popular!!! I was summoned to get her reactions.)
OK, where were we before we were rudely interuppted?
I met up with Cik Siti and entourage a day after her arrival and introduced her to the BBC World Service, Indonesian section, whose listeners form a huge portion of her fan base. Rumours has it that when there were demonstrations in the streets of Jakarta against Malaysia, many too were carrying banners professing their undying love for her. So there – music conquers all.
The next few days, she made two appearances at Oriental City and an afternoon at Malaysia Hall, causing quite a frenzy among fans. Macho men pretended not to care, old Mak Ciks considered possibilites of having her as daughter-in-law, and Bob couldn't get his lens away from her delicious sweet face. I badly needed cut-aways and had to nudge him to train his camera elsewhere too. Such is the effect Cik Siti has on people.
Both sound engineers at the BBC and my editor were mesmerised by her voice.
Can someone so beautiful and talented be so nice and untouched by all these craze around her? She has to shake hands non-stop, sign autographs non stop and still smiles and entertains her fans! Isn't there a flaw in this creature of near perfection? Well, I can hear someone shout "Her English!" .
True, but I have no problems with that. How often have we heard Italians or Spanish or non English speaking celebs speak a non perfect English. Sometimes, it is even cute to the ears. Give her time, and she will learn. Making fun of her won't help.I believe Latta Mangeskar(sp)performed and spoke in Hindi throughout her concert here. so,
Nahi
problem!
Kak Teh with cameraman Bob and soundman Ed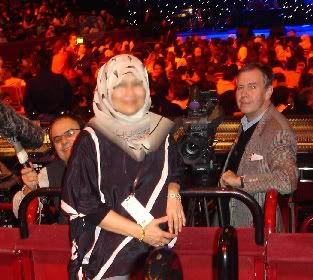 Anyway, things were building up for the 1st of April. Booked Bob for 1pm to go straight to Albert Hall and catch Cik Siti's interview with the Beeb. But Fazley, ehem, ehem, said the RAH has not given permission for the Malaysian media to be present. So we hung around Malaysia Hall, bought snacks and drinks for the long wait. Then, drove to Albert Hall to meet another crew and we positioned ourselves strategically. One crew at door 6 for arrivals of VIP's and the other at the back of the hall. Both got very good response from Siti die hard fans - the number one being the Sultan of Pahang, who said: She is my number one superstar!
The hall, as expected, was not full. Perhaps only about 2,500 people. We were told 500 seats are usually blocked and reserved by seasonal ticket holders.
A section was filled by fans-cum-sitistalkers, who won sms competition and were flown in by SNP. They caused quite a riot everywhere they went carrying albums, banners and sporting T-shirts with Cik Siti smiling tantalisingly.
We were only allowed to film the first two songs and the last two songs.
Personally, I did not recognise most of the songs as they are new. Am more familiar with Bisikan Asmara, Purnama Merindu and of course Cindai. So, in a way was quite disappointed with the opening, although I must say she looked stunning. The schoolgirl like lass eating chips with me by the roadside café in Holborn was transformed into a princess on stage.
A glittery emcee for the night
Come the joget numbers, you couldn't get me to sit still and encouraged by Mahadzir Lokman,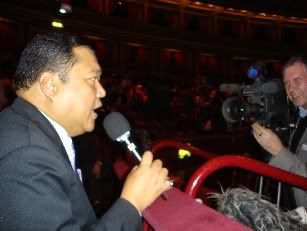 we were soon registering 6.3 on the Richter Scale. When my niece phoned all the way from Malaysia to ask whether I had behaved myself, of course, I said I did.
The concert was nearly over when Siti started her lengthy tributes from Habib Jewels to Jimmy Choo and work was just starting for us after the enjoyment.
Anak mak


We waited for her at a room reserved for the media, only to be told that fans had blocked the entrance. So, we were moved a few floors up where I met her parents for the first time. I had to congratulate them, especially the mother for bringing up such talented and well behaved children. This is a mother to mother thing.


The timing of the CEO of the RAH couldn't have been more perfect when he interupted our press conference saying that the RAH would be delighted to invite her back, and added that she has joined a list of famous singers there. Wow – I saw everyone scribbling and circling that as the intro for the story.




After a two hour routine and still she can look like this?

After the press conference, Siti obligingly posed again for us very demanding journos. No signs of stress or even the slightest annoyance or tantrums.

Bob dropped me home at nearly one am and crashed out immediately. For once, my dream did not have Percayalah as background music. I must have been very tired.

Woke up in last night's clothes just in time to send off a story to a paper and copies to two others, with a message : if I can't make it – translate and adapt!

Was about to jump into waiting taxi when I got a frantic call from editor saying story not attached to email. Spoke through mail box to hubby to resend. In taxi, scribbled script for voice over and reached Camden Lock APTN building just in time for edit. Gordon the editor was also in last night's clothes and looked as tired. He had been on standby the whole night for the Pope to die. Luckily, he waited right after Siti's solo debut at RAH. The pope, that is, not Gordon, but Gordon was soon refreshed after replaying close up shots of Siti on the monitor. Hey, we have serious work here, Gordon. If I was hoping things would go smoothly, then I was wrong…I had misplaced the most important tape of the press conference. Luckily there's a backup one from the other crew. Bob phoned up to say, he found it on the floor of his car. Well done and satelite time was in an hour's time. But as always, between Bob, Gordon and I, we managed to reduce a whole day's work and two hours magical performance to about three minutes. Once the satelite feed was in process, I thought I could relax until another editor phoned up to have a new angle to the story. Haiyaaaa..

When Cik Siti fulfilled her dreams to sing at the RAH, that's not the end of the story. She was invited to the Malaysian High Commision for high tea. And remember, Kak Teh was in last night's clothes. Stopped by at one of many Indian shops along the street, bought a kurta with enough glitters and set off on my way to outshine Cik Siti. Also, I have to convey numerous salams and messages to her. An example is: Tell her, my father says she is his cucu. Another one: If she is not interested in Fazley, tell her I am available..

Oh, Cik Siti,when is the RAH inviting you back?