Dear All. This is in reply to AuntyN's request that I show my Ayam Golek. She showed hers here
auntyN
and now I show mine! This is just a preview ...will now go and look for the recipe!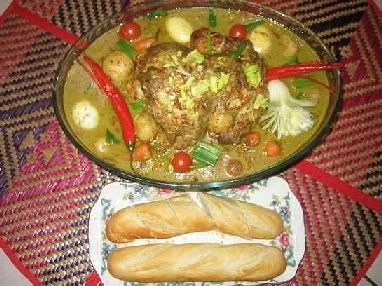 My late father would have been proud of me. I made this
ayam golek
last raya. When he was around, Pak would always make Ayam Golek for the meal after prayers. Please be advised that the recipe handed down to me is one without any exact measurements. You ask my mum, and she says, alah, just a bit of this, and a handful of that. So, here goes:
One whole chicken
10 cloves of garlic
Shallots - a little less than the above
Ginger
(Blend the above)
5 Tablespoon korma curry powder
One tablespoon of ground pepper - not too fine
Two tins of coconut milk
Fried shallots
Lemon grass
salt
sugar
Boil baby potatoes, carrots, eggs, sweetcorn and mushroom
Marinade chicken with tumeric and salt.
Fry the blended onions and ginger. Add in korma curry powder and pepper.
Give it a good stir. Add in lemongrass, salt and sugar.
Put in the chicken. Immerse the chicken in the gravy. Add in the two tins of coconut milk and let it cook until there's only athird of the gravy left. The chicken should be almost cooked by now.
Place chicken in a baking tray and place it under the grill. Once in a while baste it with the gravy.
When it is nearly done, add in the boiled vegetables and eggs. Sprinkle the fried onions. Garnish.
You can either pour the rest of the gravy on to the chicken or put it in a bowl.
You can eat it with hot french bread or rice!
If you like it, tell your friends, if you don't pls dont tell me!