It was usually late
at night and this was before we bought TV from Rashid's little shop down the road. We'd sit at his feet, breathing in the aroma from his pipe - that Curve Cut tobacco which to this day, reminds me of Pak.
Of course we had heard it so many times before, but it was nice to hear Pak talking about his youth, about the brush with the Japanese, the kinship with the British soldiers and about the not so wonderful years eating
ubi kayu
during the Japanese Occupation. It got better and more interesting when joined by arwah Pak Teh Ei(Ismail), huffing and puffing his cigar, with more beautiful and jaw dropping war time stories, complete with dialogues in Japanese and sound effects.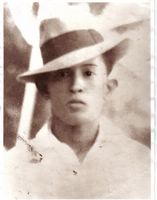 Pak was a young clerk at the land office then. Tall, fair and handsome and I imagine he cut quite a figure walking through the village collecting '
hasil pintu'
from house to house.
And when he wasn't doing that, he'd be playing his violin. Somehow this reminded me of Isa in Mochtar Lubis' "Road with no End" - anotehr wartime novel. But I think, my Pak was better than that. He played his violin, while Isa let Hazil play his.
Anyway, back to the violin. It was the violin and the way he played it that put him in the good books of the Japanese. Very cultured people, the Japanese and I suppose, after all the hard work barking orders at people, they needed to let their hair down. And of course after all those other 'strenuous' work dealing with any form of oppositions or opponents, they needed some entertainment.
We were like 'wow' and imagined Pak on his not-Harley Davidson with the violin carelessly slung over his shoulders and Panama hat at a certain tilt on his head, certain to have broken not a few hearts, making his way to the cafe where he played. He was always in suits – white suit, complete with a handkerchief, neatly pressed and perfumed, tucked in his top pocket.
I often wonder what he played to entertain the Japanese. Never thought of asking. But I suppose if the Japanese soldiers said 'Play' – you play, whatever came to mind, if not no place for Panama to rest on. So, in a way, my parents who by then had one child, were quite fortunate to escape the wrath of the occupying troops. Mak said, because Pak was so fair and almost reddish in complexion, the soldiers would come and hug and sniff him first, to see whether he smelt British.
There were many other horror stories about the atrocities. And we would listen mouth wide open and knees shaking not quite believing that the Japanese were capable of that, until I watched some of their daring fear factor kind of programmes. But you see, those were war time situation. What excuse now for those test your endurance kind of programme?
And he'd sing us a Japanese song – a compulsory one for all to learn and sing in the presence of Japanese soldiers. I once sang that to a Japanese friend and she shuddered! We heard too about those Japanese currency - often referred to as 'duit pokok pisang' - which became quite worthless towards the end of the war. And very, very often when we didnt finish our rice, Mak used to remind us the days when they had to survive on tapioca and nothing else. That did the trick.
Pak also told of one lucky escape by a British soldier who was running away from his captors. Risking his own life and that of our family, he hid the soldier in the house, and Mak put the young soldier's uniform in the tub of water under the house. For that he should be given the Purple heart, no?

Oh, well, quite recently, I chanced upon a book by Adibah Amin - 'Tempat Jatuh Lagi Dikenang', a beautiful war time story as told by a five year old girl. It was funny, informative and well-written, Kak Adib style , of course. And that too brought me back to the days of sitting by Pak's feet in the front room, listening to his wartime stories, breathing in the aroma of Curve Cut tobacco from his pipe.