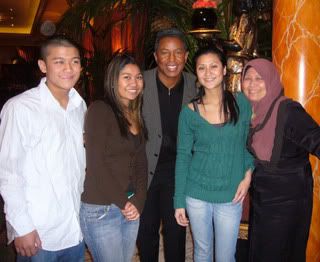 The place was The Dorchester
. The company was awesome. The Mr Fix-it was a genious.
He was just what you'd expect him to be. And more. It is not likely that I'll meet a more soft spoken person than Jermaine Jackson of the Jacksons Five, lately of Celebrity Big Brother – he with the big heart and noble mission to help the needy children of the world.
It is very seldom that my children are impressed with the assignments that I do. But on that particular afternoon, the youngest cancelled his appointment, the second took half day off work and the third left uni after lunch time.
Jermaine or Muhammad Abdul Aziz looked very smart when he walked to our table. But he also looked very tired, especially after the rounds of meetings and interviews.
"Yes, I don't mind going back to Big Brother house again," he said jokingly when I remarked that the house must have been the only place where he must have had the most rest, away from fans and journalists. Even when we were talking, there were people who walked up to shake hands with him.
Yes, there was hardly time to rest after the big hoo haa in CBB where Bollywood actress Shilpa Shetty was subjected to the most appalling treatment by some of the housemates. And it was Jermaine's calming effect that shone through during moments when Shilpa nearly broke down.
In my book, he is the real winner.
Since he embraced Islam in the late eighties, Jermaine admitted to finding such peace and calmness in himself that inevitably radiate to people around him.
"I've become a better son, a better brother, a better father and a better husband," he said.
"God had blessed our family with this talent and it is just right that we should use our talent to give back to society – especially those in need," he said, referring to his charity, Earthcare International Foundation. He spoke about the children of Africa whom he hopes will benefit from his charity work. He spoke about the environment and his concern about the human abuse of the world that Allah had created.
So, it will be in Dubai next year that he and his brothers will get together for an event to celebrate achievements by individuals who had done so much for humanity. But for now there's plenty of work to be done to bring awareness and get people to come together and "erase scars of disease, famine, poverty and conflict from the landscape and soul of Africa and developing countries."
And all too soon, it was goodbye and thank you for your time, Mr Jackson. As for the children who were fuming because I had sent them away during the interview, they were more than pacified when Mrs Jackson, Haleema, stopped and chatted to them.
And yes, here's a message from Mr Jackson: