I had taken
the train from Waterloo to Sevenoaks numerous times and almost always looked forward to being in a quiet corner of the coach enjoying my book or simply catching up with sleep or entertaining dreams in between hectic schedules - oblivious to the picturesque English countryside whizzing past the window. But this time it was different. The ride to the British stockbroker's belt on that summer afternoon of 2001, held a somewhat different meaning, a certain promise. I felt like a schoolgirl straight out of Enid Blyton's Secret Seven series on a kind of adventure – a mission even.
The mushroom croissant that I religiously bought from Deli France at the station before my weekly trips remained untouched. The malteasers unopened. I had not progressed a line from Patricia Cornwell's latest book. I was that excited.
It all began with a simple letter and an accompanying cheque written out in the name of the person I was to meet.
"Three o'clock at the station car park - I think I will recognise you," he said over the phone, his voice betrayed a middle class upbringing, polished in what must have been some of the top British public schools. In my mind's eyes, he must be in his fifties. Not more than that.
The station car park was not unfamiliar territory as I used to catch a taxi there to my usual destination every Wednesday afternoon. This time it was a rendevous with someone I had never met before to make a quick exchange before catching the train back to London.
I had recognised him instantly and he, me. I was ready to make the exchange but he seemed to want to talk and I allowed myself to be driven to a nearby hotel – a cosy little place where, over tea, he began his story about how he acquired a piece of our history.
Peter Cox was twelve when he was summoned on an errand to a retired admiral's house. That was in 1948. The old admiral handed over two boxes; one to go to a jumble sale and the other – to go straight to the bin.
Jutting out of the box that was meant for the bin was a yellow scroll and in the yellow scroll, a piece of paper which looked like a letter but to the twelve year old, it was written in a strange script. Cox's curiosity took the better of him and he decided to keep the scroll instead of throwing it away.
In 1954, when he was doing his apprenticeship in Oxford, he suddenly remembered the strange manuscript that remained in his possesion all these while. He decided to take it to a centre where he knew some Asians worked. But they couldn't help him. However, his supervisor, Professor Sir Wilfred Le Gros Clarke, soon to make his name in exposing the Piltdown forgery, saw the document and instantly thought that his friend – a J Innes Miller – might just know the contents of the letter.
And indeed he did. J Innes Miller was the British Advisor in Perak from 1947 – 1948. He read the manuscript and then transcribed the document in perfect Malay.
There in my hand, on that summer afternoon of 2001, in the leafy suburb of Sevenoaks, was a letter written in 1875 to Sir Andrew Clarke, the Governor of the Straits Settlements. It was a farewell letter from the leaders of the Malay, Chinese and Indian communities in Johore, to Sir Andrew before he left for his posting in India.
It was the same Sir Andrew Clarke who signed the Pangkor Treaty in 1874, the first to implement the new British policy of Protection in the Malay States and the founder of the Residential System.
Admittedly, its not as elaborate and beautiful as some of the Malay letters that I have seen in the posssession of The British Library, for example those letters from Raffles to our Sultans or the letters from our Sultans to the colonial masters. Nevertheless, its a piece of history - our history.
"It was hanging on my wall for a long time and my wife kept nagging me to take it down," he said.
"But I thought I must return it to where it will be appreciated," he added, taking the cheque as payment for the document.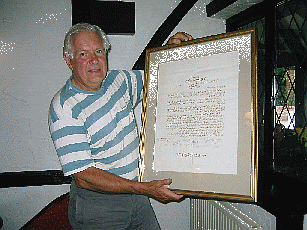 Cox also handed over the yellow silk cloth in which the document was kept. If my memory serves me right, while doing work on old Malay letters, I was told that we do not have any in our possession. There are about six or seven at the Royal Asiatic Society. And now I was about to bring back the scroll and that piece of history back to where it belongs.