It was
a really bad start.
I didn't want to go. I didn't even apply but the invitation came anyway. I am one sartorially challenged person and I suspect my presence at these functions was needed to challenge any designer who claims he/she can change and transform a person's sense or style of dressing. Good luck to them.
So, off I went in a mismatched tudung and attire much to the horror of my children.
First stop, at my shoemaker friend's shop. He was busy entertaining clients from Hong Kong. The clock was a-ticking and I was a-tapping my badly wornout shoes, (not unlike iJun's.)
After what seemed like a life time of muah-muah, kiss kiss, bye darling, bye sweetheart, we flagged down a taxi to go to the Roof Garden, where Eric Way, Cherie Blair's dresser was holding his show. The time was 12.15 and the show would have started and I'd miss the pictures badly needed for my piece. Shoemaker was hungry and seemed oblivious to the miles and miles of traffic along Bayswater Road. I pacified him with the last two bars of Galaxy I had in my bag.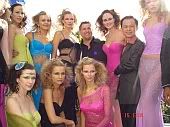 Once there, it was already 1240 and I was sure Eric was already taking his bow while we searched for the entrance. The handphone rang, the shoemaker did a sprint. "Hurry! They are holding up the show for me!" We ran helter skelter, shoemaker, mrs shoemaker, ms shoemaker and me in my badly wornout shoes. Shoemaker knocked on someone's door – thinking it was the venue, but was rescued by someone who came out searching for the lost party.
Phew! I have had enough of fashion shows. I must be getting on a bit when events like these don't thrill me anymore.
I remember my first London Fashion Week. It was sheer foolhardy to apply as a photographer. You are put in this dock where it's a dog eat dog situation. Fashion photographers are one of a kind. You go there and see Xs in masking tape all over the place, reserved areas for the best shots. And if you should be foolish enough to go in front, and they see a strand of your hair straying into their lenses, you'd better wish the ground opens up beneath you. There'd be a chorus of "Hoi!! Get out of the way!"
I was there, clutching my small Canon Ixus, surrounded by mothers of all cameras with grandmothers of all lenses, being elbowed left, right and centre. I remember getting just Naomi Cambell's heels, Jodie Kidd's knees and the rest all blurred or blank.
Fashion shows never start on time. It's the prerogative of designers. The higher they are on the who's who list, the longer you wait for the show to begin. So, in the meantime you look around to see who comes in what to these events.
The most fascinating creatures to watch are the so called fashion writers. They hardly practice what they preach in their columns. Coordinates do not come any where near in their vocabularies. And my children worry about my dress sense! Watch Hilary Alexander.
Then there's the model wannabes. Tall lanky teenagers who swan around the place in the hope of getting noticed.
Then finally, the models. In those days, in my days, anyway, models are those with the vital statistics of 36-25-36, right? With bulge and curves in the right place. Nowadays, they advertise at anorexic anonymous for models. Its almost like watching death on a catwalk. There's no need for hairstyling or proper make-up. The more outrageous you look, the better. Once I went to one show and decided that my teenage daughter could just jump out of bed and would still look good on the catwalk.
I am very proud of our Malaysian models. I was fortunate enough to meet Camelia, our Camelia, at one of these shows.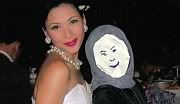 Even as a guest, after a 13 hour flight, she stood out as a real beauty. And there's of course Nasha...what a gem! I've watched her outdoing models on the catwalk here. She can be truly dazzling! (BTW, that's Kak Teh with Nasha.No prize for guessing which one is Nasha.)
And yes, the clothes. You tend to forget the very reason you come to these places when there's so much distractions. They don't make clothes anymore. They make statements. Wasn't there once a design which transforms into a table? I went to see one up and coming designer. She used stick-ons to create a pattern on the bodies of the models. And I will never forget Hilary Alexander's witty remark:Wow! That's a lovely dress you're not wearing!
Back to the show at the Roof Garden. Now, this was one classy show at a classy place. Eric used Malaysian batik on some of his very sleek evening numbers, complete with batik shoes and handbags by Lewre.
I went home lamenting my long gone waist. What a waist!
Badly taken pix and bad layout by Kak Teh. Sleek evening numbers by Eric Way & Beautiful shoes by Lewre.