The temperature
dipped a few degrees further and wild horses couldn't drag me out of the house. I'd rather be watching winter from the warmth of the house then be out there and later suffer the consequences. And of course, there's the unfinished essay – a great excuse to anyone who try to entice me out. One thousand nine hundred and twenty words already with about two thousand more to go!
A switch of the button on the i-mac and I was well on my way.
The chicken defrosted and boiled, I proceeded to make the most out of very little that I had in the fridge. Mak used to be able to conjure a feast, even without chicken. And I was sure I could do that. There's the packets of sup tulang and plenty of dried noodles – enough for mee soup.
I knew it was going to be that kind of a day, when you just want to eat and eat and watch whatever rubbish on offer on TV. And today, I decided it was going to be Kabhi Kabhi, yet again. And I heard the children groan and sought refuge in their rooms.
But it was just the right combination – mee soup and Kabhi Kabhi and I was going to give myself this treat before the madness of Monday starts.
I must have watched Amitabh Bachchan in Kabhi Kabhi a million times. Don't know when I became a Bollywood fan, but I remember my mother dragging me to a neighbour's house - the only one with TV - on nights when Hindi movies were screened. Of course, now you do notice that even Bollywood directors, or especially Bollywood directors can be so 'tak logik'.
Tak logik or not, I sat with my bowl of mee soup – yet again glued to the TV. I am not quite into Amitabh Bachchan 'cos I think his thick mop of hair looked kind of plastered to his head and his eyes and thick lips somehow made him look better in a Thunderbird set. Well, not until I had a good look at him, personally!
That was a few years ago, when Selfridges had a two week long Indian summer, with a few Bollywood stars thrown in. On the day AB was signing autographs, I joined the mile long queue of Sweeties and Preeties from Southall and Alperton just to get a glimpse of this Bollywood heartthrob.
After an hour long of waiting, we were told that Bachchan was no longer signing autographs and we had better disperse. No one moved. The woman in front of me protested that she had come all the way from Fiji and was not about to move until she met her idol.
Security finally gave in when they saw the army of forty-something women, armed with their Kabhi Kushi Kabhi Gham albums, about to cause a riot and they opened the door, but only for photographs.
It was sheer luck and only a plot in a Bollywood movie could have directed me to the front of the queue right in front of the star.
Camera in hand, Kabhi Kabhi in my ears, hair flowing in the wind in true slow motion Bollywood style, I pushed my way forward and in between hefty security guards and frantic fans I saw those smouldering good looks as he lifted his heavy-lidded eyes and stared straight into my camera.
Suffice to say, it had the same devastating effect that Sean Connery had on me; namely, I could not operate my camera. Thus this very badly taken one!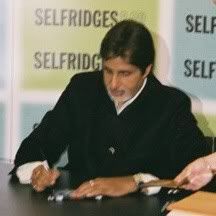 Worse still was the effect on my knees. I mentioned this to a friend who cruelly suggested it was merely the onset of osteoporosis and a bad case of midlife crisis.
Well, one can always dream and you can rely on Bollywood movies to do just that on a dull, cold and wet winter afternoon.
And, oh, the essay? Well, at the last count it was past two thousand words – but that was only because one of the cats had tiptoed on the keyboard.