With Dr Bukhori's "Apa itu berita?"
still echoing in their ears, three young girls walked nervously into the newsroom at Jalan Riong to report for duty to Pak Cik Dahari, the news editor. They were very aware of the stares, of the wolf whistles, especially coming from the sports desk, right at the back of the newsroom. But they wanted to be journalists and so stares and wolf whistles not withstanding, they put into practice the five W's and one H that were drummed into them during the first two semesters of newsreporting. They persisted even when the first few assignments were nothing more than running across the city to fetch press releases for senior journalists or writing fillers, or simply watching the subs chop and mutilate their masterpieces with their red editing pencils.
That was nearly thirty years ago.
Two of them really excelled and went on to become editors in their own fields; one in politics and the other in features. One rubbing shoulders inthe corridors of power, the
other
rubbing shoulderpads with celebs and such likes. The
latter
even continued with her passion in acting. However the third one embarked on a career as ...er, ...er...a .blogger.
One of the two editors had a headstart in the world of journalism for her father is none other than the esteemed writer, editor and novelist, Tan Sri Samad Ismail. Her late mother was agony aunt Sri Siantan and her sister a journalist. So, writing for her is just a piece of cake. In fact, she could close one eye and still produce a front page material. During the three year course, she had perfected this closing of one or two eyes behind what had become her fashion accessory, the big dark glasses. She would doze off while maintaining a look that said she was paying attention. This proved to be quite useful in later years when covering summits and boring conferences.
Apart from learning how to write intros, wannabe journos were also taught public speaking and drama. Well, we now know what the drama class has done for the editor cum actress cum mentor. No one can fault the three for taking their drama lessons seriously. They held toyol sessions complete with Thai speaking Tok Moh in selected rooms when most people were either studying hard or sleeping. They even commanded a big audience on the 13th floor of the multi storey building, with the toyol session culminating in a chase along the corridor by two not so amused pak cik guards.
Tan Sri Samad's daughter was always a squatter in the room of the other two wannabe journos, where, needless to say, not much studying was done. However, there was a lot of barn dancing and what must have been the prototype version of Akademi Fantasia, with last minute banging on the old typewriters that kept their neighbours awake all night. But they graduated nevertheless and became the journalists they had always wanted to be.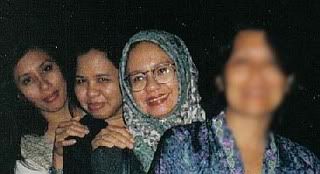 And now, one of them has joined the other in blogosphere. We are still waiting for the
third one
to make an appearance. While we are at it, let's twist Aishah's arms.
But for now, let me invite you, readers, to
3540 Jalan Sudin
to meet none other than Nuraina A Samad..