Why Mak insisted on keeping the geese I never understood. They were noisy, they left their droppings everywhere in the back yard and worst of all, they were vicious! I was sitting on the doorsteps, minding my own business when out of nowhere, one of these creatures made a beeline with its outstretched long neck and aimed for my tushy!!! It was painful!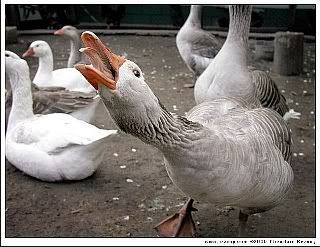 Picture from www.rezvoy.com
But I guess, geese have their functions.They make a hell of a noise should intruders enter the compound in the middle of the night. And come raya time, their eggs were most sought after.
So, whose job was it to go searching for their eggs? Being shoved into the geese pen was not unlike being thrown into a hungry tiger's cage. I had to keep looking back in case the attack came from the back while I wasn't looking. After collecting the precious eggs, just like Jack in the Beanstalk story, I scrambled back into the house, hopefully with my tushy intact!
With the prized eggs, Mak made kueh buah ulu. And what a preparation it was to make buah ulu! (or is it bahulu? baulu?) Mak fried the flour first and then in one big tub we took turns to whisk the eggs and sugar. And before the days of blenders and magimix, it took the entire household to whisk the mixture before it was ready. I was told that some people would use the
'penyapu lidi'
for that purpose. A clean one, of course. Then, be ready for the tearful bit of the cooking process. The mixture was poured into the moulds – some simple small, round or oval ones, some big gold fish ones – before putting in a big pot on a charcoal stove, preferably outside. The lid was filled with hot sand or burning coconut husks. That's the conventional oven! Neighbours all around you would know that you have embarked on the buah ulu making mission, with the smoke going sky high.
Mak in her present condition, is always forgetful. But a few days ago, I received an SMS from my sis in law telling me that Mak suddenly said – "
Kueh raya kat Kak Teh tak hantark lagi
?" Hmm, that's another tearful bit.
Well, tell her anything, tell her a lie that I do have kueh rayas but never tell her that Kak Teh is making her own kueh raya because, even in her present state of mind, she will never believe that.
With just a few days to go, and not one buah ulu in sight, I suddenly thought of making some kueh raya. In my 26 years away, I have never attempted any. Kueh rayas came from Pasar Seni – mainly jam tarts and biskut suji. The rest I can live without. Now with the customs at Heathrow getting fussier with foods from our part of the world, I have resorted to ordering from friends, looking up recipes on the internet and I even consulted
Mak Andeh
, who like me did her baking only in Domestic Science classes yonks ago.
This week will be a real test – if i manage to make some jam tarts or biskut badam London – that will be my achievement this century.
To those of you still whipping out delights from your oven, "Bila makan tu, ingatlah Kak Teh di London!"
err anyone can put me out of my misery - buah ulu, baulu, bahulu?